Biogasclean's QSR

®

system secures maximum availability
The biological desulfurization process produces sulfate (SO4) and elemental sulfur (S). The SO4 is drained out but the elemental sulfur will stick to the packing media and has to be removed on a regular bais. Biogasclean's QSR® – Quick Sludge Removal – system is a vast improvement. Cleaning is required 2-4 times a year and can be done within one working day.
During QSR® cleaning the tank is filled with water and pressurized air is injected in the bottom of the tank so the packing media is washed like in a big washing machine. The QSR® system makes it possible to clean the tank for sulfur and gypsum sludge without emptying the tank for packing media. This will reduce downtime and increase revenues.
In other biological H2S removal systems the packing media has to be moved and cleaned outside the tank. This is a dirty job and will have a huge negative impact on the uptime.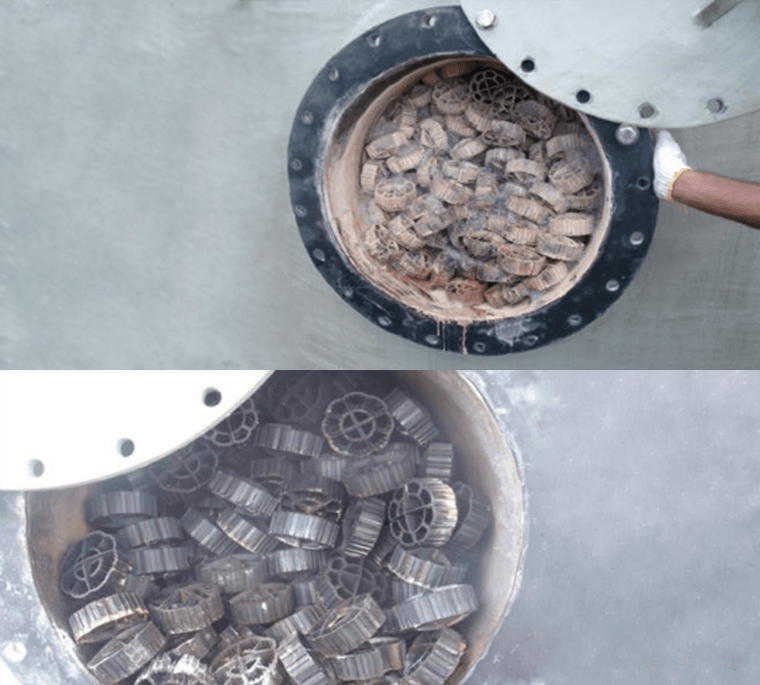 We look forward to meeting you!
Please contact us if you need an efficient solution for desulfurization or methanation of biogas or CO2. We can help you for any flow of biogas or CO2 flow and H2S load no matter if your project is greenfield or refurbishment of an existing plant. We will be happy to share our experience with you and find an optimal solution for your needs.
Thorkil Dahlgreen
Founder & CCO
.
Cecilie Engell Sørensen
General Manager
Biogasclean Americas Inc
Jorge Vinicius
General Manager
Biogasclean Brasil
Ho Vooi Toc
Sales Manager Asia
.